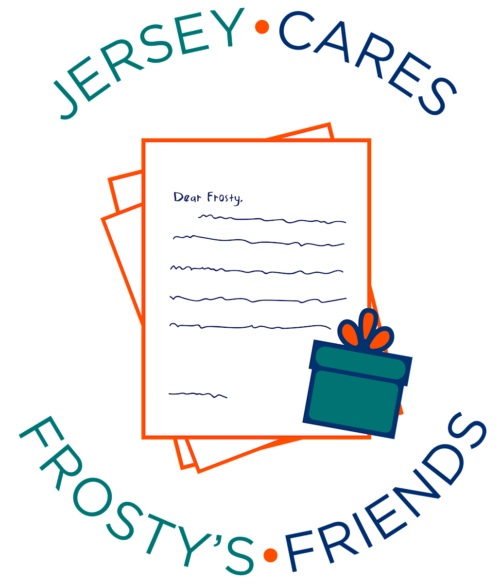 Direct Gives Back – Frosty's Friends
This December Direct Sales Recruiting decided to do another event with Jersey Cares. This was an incredible event where we received hand written letters from children in Newark NJ that were not going to get any gifts for the holiday. It was a wonderful feeling going shopping for a little 9 year old girl that just wanted anything with a unicorn on it. Some of the other requests were dolls, art or a teddy bear. We will always remember this as it really touched our hearts.
All Frosty's Friends letters have been distributed for this year! Thank you for helping us make the holidays merry and bright for all of New Jersey's children!
There are so many children in need of joy and cheer all over the world – and so many here in our own New Jersey neighborhoods. Each year, Jersey Cares receives more than 4,000 letters to Frosty from children in New Jersey who may not normally receive gifts around the holidays. The children receiving gifts are from shelters and other non-profit organizations across the state that have programs for children in need. Some of these agencies also benefit from Jersey Cares' Volunteer Opportunity Calendar projects, Corporate Service projects, Collection Drives or the Annual Coat Drive. Jersey Cares connects our nonprofit partners' children in need with Frosty's Friends volunteers.
Yet, despite this fantastic work by Jersey Cares, there is still so much more to do. There are still so many children in need. We all need to do our bit, whether that's volunteering for Jersey Cares, donating whatever money we have available personally or crowdfunding larger donations. We all have a responsibility to help out.
During the holiday season, Jersey Cares gives volunteers the opportunity to give back directly to a child in need through our annual gift-giving program. Frosty's Friends aims to spread holiday cheer to children in shelters or transitional housing facilities during the holiday season. Volunteers will receive a note from a child with their agency information and gift ideas. Corporate and civic groups are highly encouraged to register. We also recruit volunteers to wrap gifts that are purchased via our Amazon Wish List – check the Jersey Cares Project Calendar in December for dates and times. 
| | |
| --- | --- |
|     | Children Write Letters or Draw Pictures for FrostyOur nonprofit partners send us letters written by the kids they serve requesting a gift for the holidays. We work with schools, shelters, churches, after-school programs, and child development centers across the state of New Jersey to serve children who may not receive any other gifts for the holidays besides their Frosty's Friends gifts. Children who are too young to write can draw pictures instead. |
|     |  The Jersey Cares Team Reviews and Distributes LettersJersey Cares volunteers read the children's letters to Frosty and Jersey Cares staff members send the letters to individual volunteers, corporate groups, and civic teams who will answer the letters and donate a gift to each child.  |
|     | Volunteer Sign Up to Receive Letters and Donate GiftsVolunteers sign up to receive Frosty's Friends letters from NJ kids. All you have to do is decide how many letters you or your team would like to answer, (each letter comes with about a $25-$40 gift commitment) and then register to request your letters. You can always request more letters later until we have filled all of our requests, but please keep in mind that there is no guarantee that two separate letter requests will come from the same nonprofit partner. |
|     | Gifts Arrive at Nonprofit Partner AgenciesVolunteers label each gift by the child's first name and last initial and the name of the nonprofit partner. They then mail their gifts directly to our nonprofit partners or arrange a drop off using the contact information provided on their letters by Wednesday, December 12th. Our nonprofit partners then distribute the gifts to the kids to enjoy! |